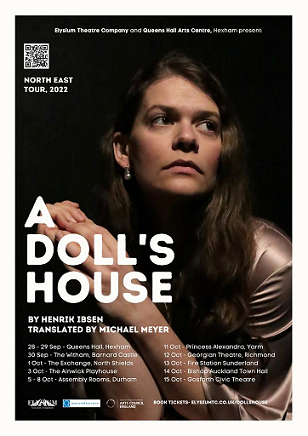 Elysium Theatre Company and Queen's Hall Arts Centre, Hexham
present
A DOLL'S HOUSE
by Henrik Ibsen
translated by Michael Meyer
with Hannah Ellis Ryan, Danny Solomon, Heather Carroll, Michael Blair, Robin Kingsland & Wynn Potts
Directed by Jake Murray
Designed by Louis Price
"No man can be expected to sacrifice his honour, even for the person he loves."
"Millions of women have done it."
Nora is a happily married woman with a loving husband and three beautiful children. Everything seems perfect in her happy home. But when a man from her past appears demanding what she owes him, her ideal life unravels, and as she realises the truth about her marriage, she is forced to make the ultimate choice…
Award-winning, Durham-based Elysium Theatre Company returns to the Assembly Rooms Theatre where it all began with Days Of Wine And Roses in 2017. We are proud to be back in our home town with our new production of Ibsen's landmark play. With Hannah Ellis Ryan (Coronation St, The River, Hello And Goodbye) as Nora, A Doll's House follows our acclaimed production of Miss Julie, which won Best Revival In The North East in the British Theatre Guide in 2019.
Don't miss this thrilling play!
This is a Live Performance staged in the Assembly Rooms Theatre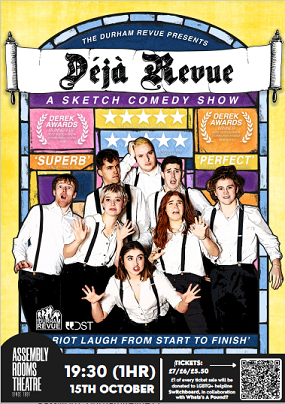 For one night only: The 2021/22 Durham Revue Troupe Return with their Award Winning Fringe show!
Join the group which brought you Ed Gamble, Nish Kumar, Ambika Mod, Stevie Martin and many more as they journey through an hour of sketch comedy with hilarious consequences. The Revue return from a successful run at the Edinburgh Fringe Festival to perform their 5* rated, Award Winning show, one last time. They have joined in partnership with 'what's a pound?' ( https://switchboard.lgbt/ and https://www.whatsapound.com/ ) to find an intersection between student's enjoyment and social responsibility. £1 of every ticket sale will go to Switchboard LGTB+ helpline, which provides members of the LGBTQ+ community a safe space to talk, to be informed and to be empowered.
TW // Strong language // Swearing
This is a Live Performance staged in the Assembly Rooms Theatre
Durham Drama Festival 2021
DDF is going to look a little bit different this year. Despite being translated to an online format we are excited to present to you our line up for DDF 2021 including talks with Olivier winning playwrights, a one-night film festival, and no less than nine student written productions!
There is something for everyone, writers, performs, or those of you who fancy a little bit of entertainment in the midst of a pandemic. 
All the events are accessible online from anywhere in the world for free. Check out their website for all the info!